The Best Elevated Spot For Fun In Palm Beach County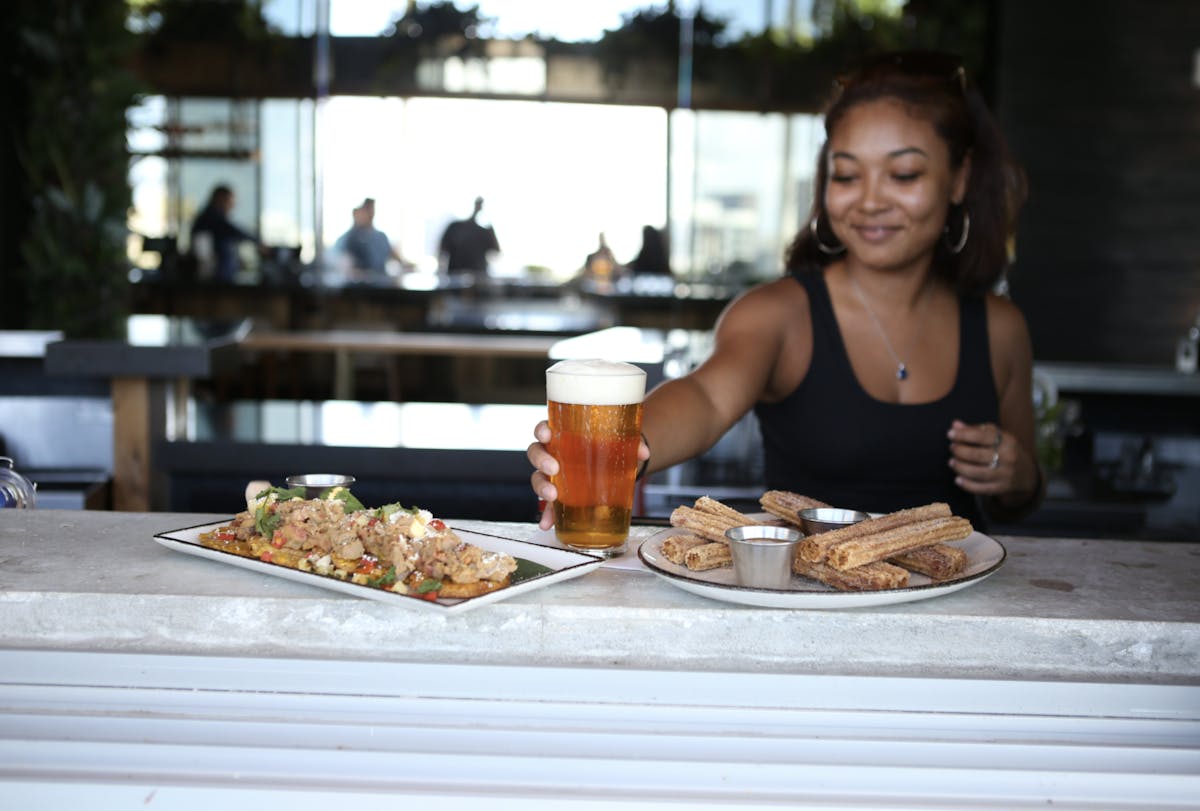 Great rooftop bars have all the bests: the best views, the right vibe, fantastic music, and a tasty food and drink menu. What do you look for in a good rooftop bar and restaurant?
Gather and relax with your friends at the best local elevated spot in Downtown West Palm Beach! Perched on the 13th floor of Canopy by Hilton, Treehouse is the highest rooftop bar and lounge in Downtown WPB. Make every meal a special occasion with mouth-watering dishes inspired by local WPB, Latin, Caribbean, and Florida cuisines. Sip on unique handcrafted cocktails or try an ice-cold regional craft beer at our restaurant or bar.
Treehouse offers indoor and outdoor options to make your dining experience delightful. Our welcoming space features flexible seating, including comfortable couches, communal tables, chairs at our bar, and modern tables. Treehouse is open every day of the week at 11 am.
So come find your new favorite view of our energetic city at Treehouse - the best restaurant for fun!
Panoramic Views of Downtown WPB and the Ocean
Morning, noon, and night - Treehouse has terrific views of our dynamic city and salty Ocean! Discover your favorite spot in our outdoor restaurant and lounge area inspired by rich local Palm Beach culture. As the highest rooftop bar in Downtown WPB, you'll feel the warm ocean breeze as you enjoy the uninterrupted view around you. Meet your friends for good times and great food with a beautiful picturesque backdrop of our amazing city.

Fantastic Brunch Options Every Weekend
Schedule the perfect excuse for a carefree, leisurely start to the day: Brunch! Our seasonal menu offers a delightful selection of flavorful dishes that will hit the spot. We use high-quality fresh ingredients and feature many locally sourced menu items in our seafood, chicken, pork, and beef dishes. Elevate your experience with an innovative premium craft cocktail developed by our creative mixologists. These tasty drinks are thoughtfully designed to pair with our delectable menu.
Check out our delicious menu for your next trip! Brunch happens every Saturday and Sunday from 11 am until 3 pm.
.
Events You Won't Want To Miss
Are you looking for something fun to do? Our events bring the best of West Palm Beach to the 13th floor for you and your friends!
Our elevated parties on our rooftop bar and lounge feature the hottest local DJs, musicians, and businesses. Many of our events include access to Canopy's rooftop pool! We enjoy partying with you for holidays like the 4th of July, Memorial Day, and New Year's Eve.
Don't forget to sign up for our monthly emails to hear about all the upcoming happenings at Treehouse!
Late Night Happy Hour Under The Stars
Don't end your evening early! Bring your friends to Treehouse for our Late Night Happy Hour. Our bar and lounge on the 13th floor will keep your night going under the stars. You'll experience spectacular nightscapes as Downtown WPB begins to slow down for the evening.
Enjoy a nightcap (or two) as you unwind in our relaxing space. Treehouse hosts Late Night Happy Hour every Sunday - Thursday starting at 8 pm. We offer a special menu that features $5 premium cocktails and lite bite options during Late Night Happy Hour.
Treehouse at Canopy by Hilton West Palm Beach is located in Downtown West Palm Beach. Find us inside Canopy, a boutique hotel at 380 Trinity Pl, West Palm Beach, FL. Our 13th floor rooftop restaurant and lounge feature panoramic views of Downtown and the Ocean! Enjoy inspired dishes and handcraft cocktails that will deliver delectable flavors in every bite. Sign up for monthly emails to stay in the loop for what's happening at Canopy. For even more Treehouse, follow us on Facebook and Instagram.